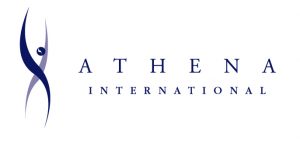 The ATHENA®​  Leadership Awards Program recognizes and honors the achievements of outstanding professional and business women. It celebrates individuals who strive toward the highest level of accomplishment; women who excel in their chosen field but who also open paths so that others may follow.
The ATHENA Awards Program is an international program. Since its beginning in Michigan in 1982, more than 7,000 awards have been presented in over 500 communities in 8 countries. The Palo Alto Chamber of Commerce is pleased to bring this important recognition program to women working in or contributing to Palo Alto.
Palo Alto Chamber of Commerce proudly presents the
34th Annual ATHENA® Awards
Palo Alto Chamber of Commerce announces the 2021 ATHENA HONOREE.
The Palo Alto Chamber of Commerce is pleased to announce that Judy Kleinberg has been chosen as the 2021 ATHENA HONOREE. The ATHENA LEADERSHIP AWARD is presented annually to celebrate and recognize a leader who has achieved the highest level of professional excellence, contributes time and energy to improve the quality of life for others in the community and who actively assists others in realizing their full leadership potential.
Judy Kleinberg began her civic involvement in Palo Alto as an active parent and the organizer of the Safer Summer program for Palo Alto teens. By 2000 she was elected to the City Council and re-elected in 2004. Judy was chosen as Vice Mayor in 2005 and Mayor in 2006. Judy continued to be an ardent youth and family advocate, working with the Family Resource Center, Palo Alto Community Child Care and the Palo Alto Youth Council. She helped to create the Midtown Merchants Association, while also supporting regional organizations like the League of California Cities Peninsula Division, Santa Clara County Cities Association and Santa Clara County Emergency Preparedness Council;  and Judy has worked tirelessly on issues relating to housing and the homeless, working with the Housing Trust of Silicon Valley, the Housing Leadership Council, and the Palo Alto Housing Corporation. Additional contributions include the Committee for Green Foothills, the Association for Senior Day Health, Leadership Palo Alto, Leadership Midpeninsula and the Rotary Club of Palo Alto.
Judy has been Vice President of Joint Venture Silicon Valley, was an Executive Director of TechAmerica, helped launch Google-created InSTEDD, and as its COO, CFO and General Counsel, built its legal, financial, and human resources structure. She then became Program Director for Silicon Valley for the John S. and James L. Knight Foundation.
In 2014, Judy began leading the Palo Alto Chamber of Commerce promoting greater awareness of economic variables in public policy decisions, advocating for solutions to the city's problems that respect and enhance the role of business and promote the city's long-run economic vitality and was always attuned to what business and professional people need in order to be successful, from storefront retailers to the biggest high tech companies, from hospitals to hospitality services.
The Palo Alto Chamber is honored to recognize Judith G. Kleinberg as the 2021 ATHENA HONOREE for her exemplary leadership and commitment to our community.
At this time , due to COVID-19 restrictions, a small reception will be planned for past Athena honorees only.
2020 Athena Leadership Award
2020Athena Emerging Professional
ATHENA Emerging Professional Leadership Award
2020 Womam of Wisdom Award
Second Annual Silicon Valley Woman of Wisdom®​ Award
For Individual Tickets and Preferred Table Reservations
At this time , due to COVID-19 restrictions, a small reception will be planned for past Athena honorees only.
Past ATHENA Leadership Award Recipients
Cecilia Burciaga (1987) • Loretta Green (1988) • Gail Stypula (1989) • Rose Kleiner (1990)
Paula Sandas (1991) • Betsy Bechtel (1992) • Carroll Harrington (1993) • Kathleen Gwynn (1994)
Jeanne D. Kennedy (1995) • Beverly Nadine (1996) • Karen Csejtey (1997) • Susan Black (1998)
Marlene Prendergast (1999) • Lynne Johnson (2000) • Sharon Williams (2001) • Lisa Hendrickson (2002)
Pam Brandin (2003) • Jean McCown (2004) • Barbara Gross (2005) • Karen Nierenberg (2006)
Georgie Gleim (2007) • Marilyn Winkleby (2008) • Deborah Pappas (2009) • Audrey Rust (2010)
Tara VanDerveer (2011) • Rebecca Nelson (2012) • Anne Warner Cribbs (2013)
Jane Williams (2014) • Eileen Richardson (2015) • Karen Kienzle (2016) • Jenny Dearborn (2017)
Sherri Sager (2018)
Past ATHENA Emerging Professional Leadership Award Recipients
Jacquetta Lannan (2014) • Stephanie Martinson (2015) • Candice Gonzalez (2016)
Anissa Leong (2017) •  Elaine Uang (2018)