Welcome to Palo Alto, the city known as the "Birthplace of the Silicon Valley."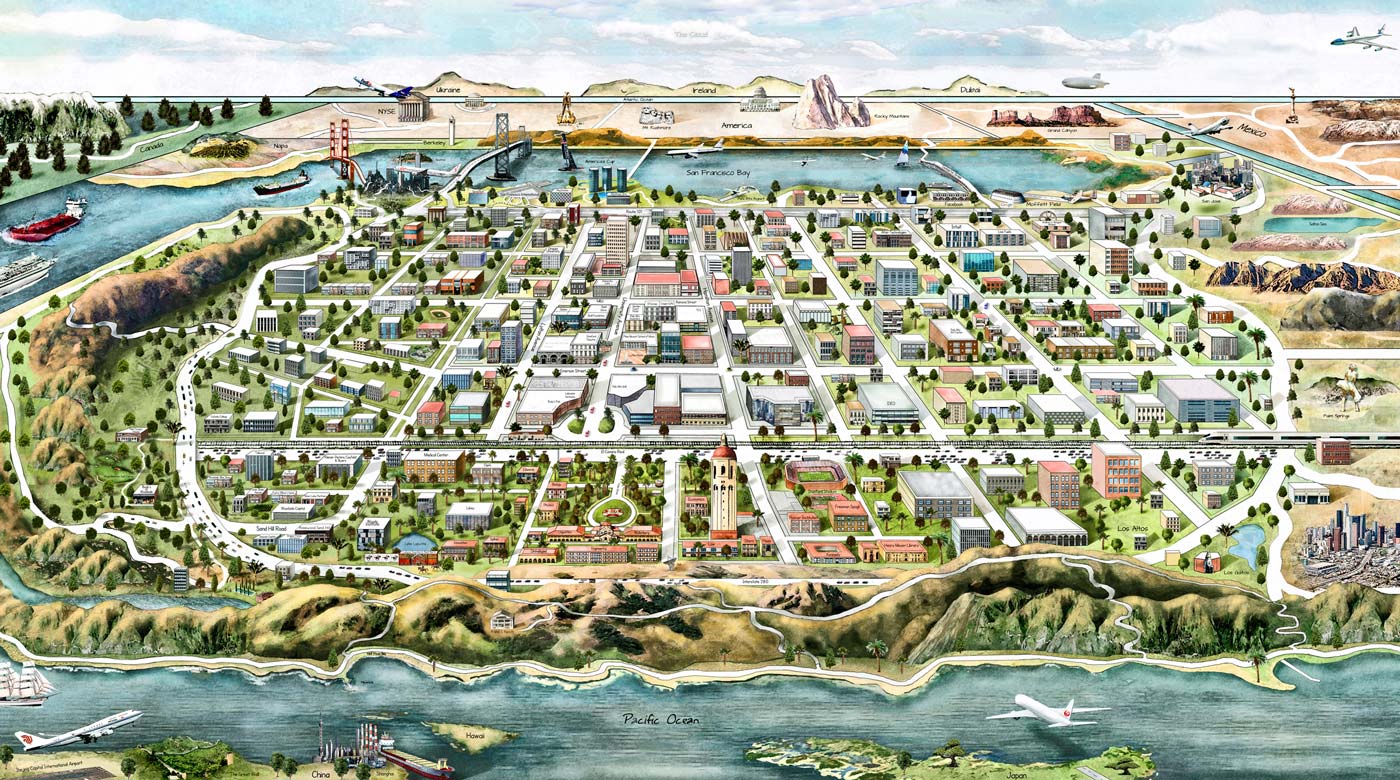 Located 35 miles south of San Francisco and 14 miles north of San Jose, Palo Alto is the heart of the Bay Area.  Its central location makes it easy to access from all directions.  With Stanford University nearby, Palo Alto carries an air of a university town.  It is a diverse community of over 66,000 residents and more than 100 languages are spoken in this area.  Recent surveys report that over 80% of residents have a bachelor's degree or higher.
Palo Alto is headquarters to a number of industry leaders, such as Hewlett-Packard Inc. (HP Inc), SSL (Space Systems/Loral), VMware, Tesla, Ford Research and Innovation Center, PARC, IDEO, Skype, Amazon, Palantir Technologies, and Houzz. It has also served as an incubator for several other high-tech companies such as Google, Facebook, Logitech, Intuit, Pinterest, Waze, Skype (Microsoft) and PayPal. With amazing talent pools and innovation energy, Palo Alto has become a destination not only for tourists, but also for startups and international collaborations. Palo Alto is also home to the Royal Danish Consulate, the only consulate in northern California outside of San Francisco, located here because of the tech talent and the city's youthful, fun "vibe."
Palo Alto in Spanish means "tall tree" - or literally "tall stick" - and the city got its name from the 1,020+-year-old Sequoia redwood tree where a Spanish exploratory group camped under the tree on the banks of a creek in north Palo Alto. When you come to Palo Alto today, you can still see the city has put in a lot of effort to protect the trees which are abundant throughout the city, which was designated by the National Arbor Day Foundation as a "Tree City-USA." With 4,500 acres of parkland and open space, Palo Alto is no doubt one of the greenest cities in the Bay Area. It is a friendly town that has many attractions waiting for you to discover.
The Palo Alto Chamber of Commerce & Visitor Center is located at 355 Alma Street, in downtown Palo Alto, and we are open on Weekdays from 9 am to 5 pm. If you would like a FREE Palo Alto map, or have any questions, please feel free to reach out to us at: info@paloaltochamber.com or call us at 650-321-3121.  We are more than happy to assist you to make your visit more pleasant.
Norman Y. Mineta San José Airport is a public international airport located in San Jose and covers about 1,050 acres. It is a city-owned entity, which is managed by the city of San Jose. The airport codes are ATA: SJC, FAA LID: SJC, ICAO: KSJC. It is an official United States Customs, and Border Protection international port.
SJC is situated in the northwest of Downtown San Jose, just 17 miles from Downtown Palo Alto, 23 miles from the Stanford Business Park, and 24 miles from Stanford University's Main Quad.
The airport received its current name from San Jose native Norman Mineta, a former city mayor and member of the U.S. House of Representatives from California's 13th Congressional District. Mineta served as the first Asian-American Secretary of Transportation under President George W. Bush and later, as Commerce Secretary under President Bill Clinton. Norman Y. Mineta San José International Airport (or SJC) is the second-busiest airport in Bay Area according to passenger boarding numbers. The airport serves Silicon Valley and Santa Clara County and has both domestic and international flights.